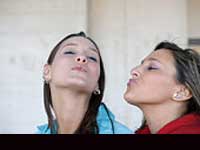 Go up to a girl and kiss her will not make you look bad neither will it term you as being a lesbian or gay. Ever since the famous singer, Katy Perry came out with her track, 'I Kissed A Girl', many women are wondering if its okay to go ahead and do it. Well, you can and there is no harm too.
Madonna and Britney Spears who first interlocked lips on stage in front of millions of fans in the year 2003 became famous overnight and now women rae trying it out just to know how it feels. For those girls who actually interlock their lips with another lady are called ,'flexisexuality'. Still attracted to men and still feel the warmth of men in terms of lovemaking, these flexisexuality women need to make out with other women too in order to satisfy their sexual drives.
The flexisexuality trend which is catching up fast among the youth has made parents wondering if their children will turn to being lesbians. However according to a report, it stated that this flexisexuality trend is only a high school culture for teenage girls to get noticed by attractive boys who actually finds flexisexuality very interesting and hot.
Celebs like Lindsay Lohan who is currently rumored to be dating her ex Samantha Ronson told the media that though she adores her girlfriend, she still gets attracted to a man therefore she is a wide example.
Author of the book, Sexual Fluidity says that one does not have to be gay or lesbian to enjoy the same sex contact when it comes to lovemaking.He also says that, "In the old days, any instance of same-sex attraction was automatically put in the category of bisexual or lesbian and now we realize women are more complicated than that."