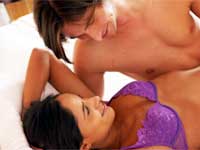 Logging on for no-strings encounters has never been easier or more popular, thanks to websites such as Adultfriendfinder.com and Illicitencounters.co.uk, which allows bored housewives and unhappy married men to fix up an afternoon of 'NSA' (no-strings-attached) sex.

The clientele ranges from early 20s to late 40s and a huge number are perfectly open about the fact that they have a partner at home. For instance, 39-year-old James, who lives with his wife, Paula, and two young children in Devon, says that the more experimental nature of online women is what turns him on.

"The women I meet online are more experimental than any I've had a regular relationship with, including Paula," News of the World quoted him, as saying. "She wouldn't want to do some of the stuff I enjoy, so this scratches that itch. "Just knowing a woman loves sex so much she puts herself out there is a turn-on," he added.




[an error occurred while processing this directive]

And it's not just men who enjoy these undercover liaisons. Lucy, 36, from Oxford, says she's happier than she's been in years after indulging in her first internet hook-up a few months ago. "It sounds cliched but David works away and isn't very highly sexed - we only do it once a month," she said.

"I talked online for several weeks to my first and so far only lover. We swapped photos before I agreed to meet him. I wanted to know he was genuine. "There was no emotional bond, so we could demand exactly what we wanted without embarrassment, as well as acting out our fantasies. I don't feel guilty, and I'm happier than I've been in a long time," she added.

Emily Dubberley, author of Brief Encounters: The Women's Guide To Casual Sex, said that the trend is not surprising at all. "The internet offers instant intimacy - you can feel like you've got to know someone a lot more quickly because of the anonymous nature of the initial communication," Dubberley said.