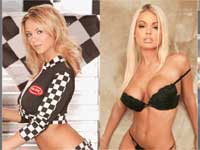 Have you ever thought the secret behind the guys getting attracted to porn stars? Have you ever wondered at the excellent performance the porn stars on bed? If you have ever watched and wondered at the skills and excellence of porn stars, you would have wished to be like them when you are with your man to end up the lovemaking more and more satisfied. Following few simple steps may make you the honeydew of your man, and no more you will have to sleep alone on bed when your man finds satisfaction on the performance of porn stars on screen.

Take initiative enthusiastically
The first step to make your man hot and aroused is to be enthusiastic when you are with him. Most of the times women wish to hold the good girl approach and slip away from sexual act when your guy wants to do so. The secret of porn girls is that they never look like fed up with the process.

[an error occurred while processing this directive]

They always show their partners how excited they are by engaging them with their speech and movements. Taking initiative is the further step towards satisfaction. Wake your man with feather-smooth touches and kisses. In bed, get into the moment by looking into his eyes and telling him how eager you are to be with him.

Know yourself
Like a perfect porn babe be daring and willing enough to speak up your sexual needs and ideas. Sex is not a thing to be ashamed of. Sexuality is the integrated essence of human beings. Tell him how much you enjoy it when he kisses that special spot, or mention something you're craving in the heat of the moment! Just asking for something new can be a huge turn-on for both partners. Try to love the act and learn how to utilise your bodies effectively for the highest possible satisfaction. You can explore your body to know yourself better. Make like a seasoned porn babe and figure out what works for you by caressing your thighs, breasts and everything in between. Not knowing what feels good is like taking a cross-country road trip without a map!

Men are competitive and they love to know they are the best at whatever it is they're doing. Like a skilled porn girl encourage your guy and appreciate him and you will find him making you more happy and satisfied at any cost. It is advisable even to prepare few dialogues that may awake your guy.

Roll of fantasies
Even though girls may not admit that they do day dream about the sexual act, it is quite normal with anyone to fantasise lovemaking scenes and finding pleasure in it. Porn girls do not judge the desires of their partners or take offense at what turns them on. Just because your guy fantasizes about a threesome doesn't mean he doesn't love you or even that he would want to participate in one in real life. As long as the boundaries of your relationship are maintained, fantasizing is healthy aspect of sexuality. Talking to your man about your fantasies and sharing them will not only spark amazing sex, but they will also build trust and intimacy, which is always sexy.

Be Creative
There are no pre-defined ways of enjoying sex. What is pleasurable for you is the better way of lovemaking for you. Most of the girls think this way that what works for your guy, which is why you do it again and again. But porn babes always know that their partner has dozens of hot buttons from his toes to the back of his neck, and that half the fun is finding out what works and what doesn't. You can explore for more and more ideas to reach the perfect happiness. Try methods like gently pinching or biting his nipples or kissing his chest and stroking his stomach gently with your nails.

Good girl approach tends many women to give priority to their partners wishes, thus ending up with unsatisfied sexual act. Remember, sexual desire is not a male-specific attribute, nor is it something that should be rationed. In fact, it's practically as essential to a full life as food, water and shelter. Porn babes do things they know their partner will enjoy, while asking for what they want in return. Make your lovemaking a mutual process. Make your partner enjoying it while you demand for his share to be done.