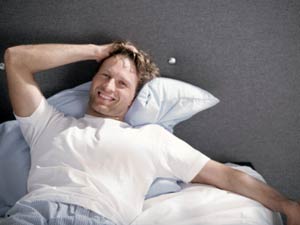 Masturbation is a relief for men! Masturbating helps a man get relief from stress and sensual worries while staying healthy. Releasing sperms keeps the man healthy and active. There are many reasons on why men masturbate depending on the fantasies, likes and wishes of a man! Lets have a look at the reasons on why men masturbate.
1. Every man secretes semen on a daily basis and this if not taken out leads to sensual tensions. By masturbating, men get relief from this tension and stress.
2. Masturbating helps a man get over stress which eats their head and makes them depressed at times.
3. By masturbating, men get rid of wet dreams. If a man doesn't release semen from the testicles for a longer time, getting wet dreams is obvious. Wet dreams is the natural secretion of semen while sleeping.
4. Fulfill sensual desires or fantasies by masturbating! This is the most common reason why men love to masturbate.
5. By masturbating, men get nice sleep this is the reason why men a must before going to sleep to control their fantasies and this helps them get good relaxed sleep also.
6. For many men, masturbation is a medication which makes them forget about their problems. It also helps them control their distraction. Sensual fantasies can distract a man so by self suiting, they get more relaxed and can concentrate on their work!
7. Masturbation prevents blue balls, a pain in testicles.
8. One of the main reason why men masturbate is they get the control over their erection at wrong or unwanted times.
9. Masturbating also helps get control in cum. This is a practice which makes a man control the ejaculation and last longer while lovemaking.
10. Masturbation is like a pain relief for men! Man orgasm makes them get over muscle pain or cramps.
11. Men orgasm is an alternative to lovemaking. If a man doesn't get a chance to make love, he ends up with a handjob to satisfy himself.
12. Handjob doesn't require any support. This is a common reason why men masturbate. They can do themselves anytime and any day!
These are the main reasons behind men masturbation.