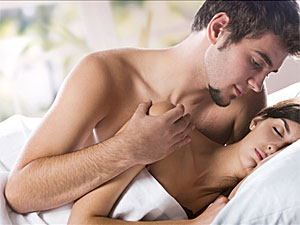 If you are wondering which is the best time to have a safe intercourse then the direct answer is that there is no such safe intercourse period. However the most dangerous time is the halfway between the start of one period and the beginning of another consequently. It is not counted under safe days as this period is the most fertile time for women. In numbers, it is the 12-14 days after the period. Precaution is a must as you can become pregnant at any time of the month.
Ovulation takes place 14-15 days before the next menstrual date. The riskiest days are 3, 2 or 1 day before or on exact day of the ovulation. So, know your date before making love. The ovulation lasts for only 24 hours but sperms can stay alive for 6-7 days so an unprotected lovemaking can lead to unwanted pregnancy.
It is believed that safe days come after the ovulation passes. You can make love but don't blindly believe in this. It is recommended to use condoms to be safe from diseases and infections.
Safe intercourse period will also protect you from getting infected from sexually transmitted diseases. Many couples find condoms as a barrier in lovemaking as they are turn offs. But there are flavors to enhance lovemaking.
Ensure safe intercourse by using condoms and stay protected while enjoying the intimacy. Try out different positions of lovemaking to enjoy the moment and use proper contraceptive to be free from worries. First time intercourse is very dangerous as the man doesn't realize when he cums so it is a must to use contraceptive so as to have safe intercourse period. Virgin girls are highly prone to getting pregnant so be careful. Check the condom before using it. See to it that it is not torn or doesn't have a hole as condoms are not always 100% protective.
Check the used condom before throwing it to see if it torn off while lovemaking or not. If you find it torn then immediately take a contraceptive pill. The contraceptive i-pill should be taken within 72 hours of intercourse but it is advised to take as soon as possible to stay safe! Enjoy lovemaking but ensure safe intercourse.