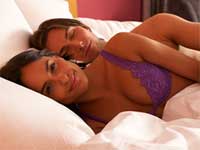 A married couple did something that not many couples would take on - have sex for 101 days straight. And, they"ve even penned a book about it called "Just Do It".

Married for 11 years, Annie and Doug Brown decided to have sex for over 3 months and write a book about their experiences after Doug attended a conference where he came met married couples who hadn't had sex for 100 days.

"This man gave a talk about being in the '100 Days Club. It's a club that you don't want to be in because it means you haven't had sex with your partner for over 100 days... So, I said to Doug after he told me about that story, 'Maybe we should reverse it,' " the New York Daily News quoted Ann, as saying.

[an error occurred while processing this directive]

Their friends thought that they were crazy. However, the couple stuck to the experiment and no matter how tired the parents-of-two were, they had sex every single day for 101 days.

And the bedroom was not the only place for their sessions. They did it at home, on the road, on top of a mountain and at a sex convention after watching porn. By the end of their decided time, they were exhausted and took a hiatus from sex for a whole month.

However, they say that their decision was certainly a good one, and has helped them grow. "We touch more," Doug said.

Annie added: "What we really learned is that we have to take care of each other more and pay attention to each other in ways that we haven't since the early days of our marriage." Their book hits stands in the US on June 26.