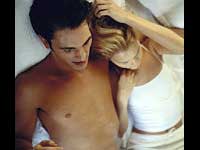 Everyone has bad habits and in time it will fade away when we get to know personally that it is not good for our relationships with the ones we love.
Though lovemaking is a feeling and time spent with that special someone whom you love so dearly, there are certain bad habits of lovemaking that most couples do not know about. It is important to get rid of these lovemaking bad habits as it will cause hindrance in your relationship causing your love life to fade away in darkness.
These lovemaking bad habits stated below will be of great use to most of the couples who experience these habits.
1.Your body - Learn to love your body. It is important for some men and women to first learn to love their bodies before they show themselves to their partner. In bed, most men and women have this lovemaking bad habit to cover themselves up before their partner.
2.Silence - Being silent when it comes to lovemaking is an insult. It will only show that you are not interested and not enjoying the precious moment with your mate. Enjoy love life by moaning and complimenting each other when you are deeply caught up under those satin sheets.
3.Happiness - One common lovemaking bad habits is that most women tend to be very serious when they are in bed with their partner. It is essential to laugh and have fun which will energize your love life making it more lively during a lovemaking session.
4.Orgasm - Very often some women fake their orgasms to please their men in bed. In this way, she is not pleasing herself as well as her partner. This lovemaking bad habits should be stopped to enjoy a lovemaking session with your partner. There are many ways to make your woman orgasm and faking an orgasm will not satisfy anyone.
5.Lovemaking Positions - A repeat of the same lovemaking position can bring about boredom in your love life. This is a common procedure most couples in love follow. They feel very comfortable with the same type of lovemaking positions. Get hold of some new ways to make your partner feel special and unique in bed.
These are some of the lovemaking bad habits that each and every couple should get rid of to make their love life more entertaining and special.