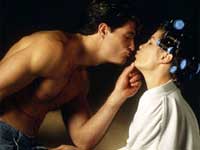 Lovemaking is a much-craved pleasurable experience for many men. However a recent study, led by the University of Nottingham, found that men suffer the negative health impacts of lovemaking than women.
The interesting fact is that the impacts of lovemaking shifts from negative to positive as the man gets aged. Men who are very sexually active at the age of 20s and 30s are at a higher risk of prostrate cancer. However the frequent sexual activity in a man"s forties have little impact on his health. If you are sexually active in your fifties, you are a lucky one, since the action will offer you protection against many diseases.
His hormone levels always control a man"s sexual activity and these hormones play a key role in prostrate cancer. Therefore a check on man"s sexual activities like how often he masturbates, had intercourse, how many sexual partners he had had and whether he had any sexually transmitted diseases etc will reveal his prostrate cancer risk.
The study found out that the release of accumulated toxins during sexual activity is more at the age of 20s and 30s than at a later age. This release of toxins is more in masturbation than in an intercourse. The release of toxins reduces by the age of 40 and men are less prone to sexual activity by this time. This theory has, however, not been firmly established and further researches are going on about this! AGENCIES