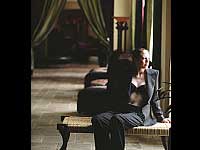 When it comes to the bedroom, every woman would want to look their best to turn on their mate. To make this possible and to help enhance your love life in lovemaking, try the latest lingerie for women.
Men love saucy lingerie for women, they feel they look the most sexiest with them on. The latest lingerie for women is the from the Ultimo range of lingerie which is absolutely stunning.
To make it a good lovemaking session, purchase this lingerie for women from the Ultimo lingerie store.
For women who are extremely conscious about their figure in the nedroom, this is the only way out for you to look fabulous. The Ultimo Lingerie store has launched a new range of inner wear which makes a woman dream come true to have a perfect hourglass figure.
The Ultimo lingerie is perfect for women who have those extra flabs causing a hindrance during the art of lovemaking with their partner which also helps to enhance your love life. This lingerie is made out of a hi tech material which helps to raise the breasts by two cups sizes and also slims the waist and stomach making one look jaw dropping.
This instant body fixer by Ultimo lingerie is proven to be the most advanced underwear which helps the woman feel confident about her figure and thus enhance your love life. You can now purchase this lingerie for women at a price of 41 pounds which is available in Debenhams and at the Ultimo lingerie store.