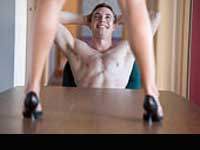 The art of lovemaking is great and to spice things up in the bedroom is something that each partner would want unintentionally. Surprise your beloved partner by seducing him with the most famous lovemaking seductive dances that have made history in enhancing love life.
These seductive dances have to be done out of great pleasure so that he enjoys every move you make on him in the bedroom! Go ahead and try them out today to make your love making session a night he will never forget.
These lovemaking seductive dances are not only for professional women dancers , you too can follow the right lead by simply being yourself and knowing the basics of these lovemaking seductive dances.
Here are four dances to help you in enhancing love life.
1.The Lap Dance - This is one of the best lovemaking seductive dances ever. There are many clubs which men go to just to get a lap dance. Dont make your partner get seduced by another woman when you yourself can do it! The best thing about a lap dance is to not let your partner touch you when you venture close to him. However, when you are seductively moving in front of him, gently touch your erogenous zones so that he gets turned on instantly. A lap dance does not necessarily mean you have to strip in front of him.
2.The Strip Dance - Yet another lovemaking seductive dance that will drive any man crazy. To make him drool over you, the strip dance is one way you can get him in the mood of lovemaking. All you have to do is gently dance for him and slowly remove what you are wearing on. Spank your partner with your inner wear in enhancing love life. There are many movies which show you how to do the strip dance for your partner also known as the 'strip tease'.
3.The Pole Dance - Every woman wants to please her partner in every way possible when it comes to lovemaking. The Pole dance is one lovemaking seductive dances that can make your night wild. To perform the pole dance all you have to do is to first buy a portable pole. Make him wild by dressing up in red lingerie and attire with the most seductive perfume your partner adores on you. The best tip for pole dancing is to do it in high heels as it is said that women in heels gives men a shiver down their spine.
These are some of the seductive dances you can try out for him. Give him a surprise tonight and you will see the glow on his face.
Story first published: Wednesday, March 2, 2011, 16:57 [IST]