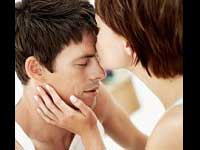 Ladies its your turn now . Its time to ride the horse and show your man that you can satisfy him in the most exotic ways. These tips can help you take him to the land of ecstasy, he will enjoy it and will beg for more. So pull up your socks and pull down his pants.

Its time for you to initiate sex. Don't let your man always make the first move. Pounce on him when he least expects it. It will be a pleasant surprise if you make a move while he is watching tv. This helps to take away the stress too, in having to feel that he should always initiate your sexual encounters.
Lovemaking is all about pleasing your partner in little ways possible. If you try the same positions all the time, both tend to get bored of it as it becomes a routine. Trying different positions will help enhance your love life and will also help spice up the relationship. It is said though that most women never try to leave their comfort zone to try out new positions. You can surprise him by giving him a doggy style or be a cow girl for a change and ride him on. Its good to try out new positions and being random always plays a vital role too.
Taking the lead has always been an issue for men. Girls , take the lead and be in control now. Try out various positions that will show him that you too are enjoying yourself. There are men who love to see their lady doing all the action, it turns them on. 

So try out these tips ladies and it will surely increase his excitement , do your part as his lady and drive him crazy.