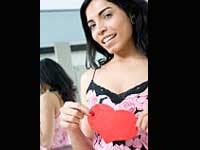 To spice up the night and make it more special with the latest lingerie, a French Label Lingerie Company has now launched a new range of women lingerie that can be fastened with magnets, also known as the Magnet Lingerie.
Surprisingly, the traditional women lingerie of the hook and eye straps have gone out of the market.
This new line of women lingerie is so exotic as it features discreet magnetic clasps set at the front of the bra and concealed by bows. The women's underwear comes with a 'flick off' function on the hips.
The women lingerie or magnet lingerie , label's website goes by the name of 'romantic and naughty' with an additional magnetised system termed, 'Very strong'.
The women lingerie, 'Volant' design is perfect for women who have small breasts and it is designed so beautifully that the ruffles and bows highlights the curve of the hip.
The other range, 'Charmant', is for plus size women. Designed in such a way to fit larger cup sizes.
Stylist Sam Saboura stated that," It brings a little bit of theatrics into the bedroom. There's kind of a fun quality to undressing someone in an intimate way, and this would give that tear-away effect."
This magnet lingerie is available in all leading stores.