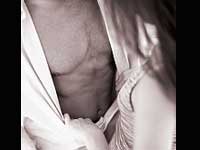 When it comes to lovemaking, men want it to last longer in bed with their wonderful lady love. There are some men who face problems with premature ejaculation, thus affecting their love life.
For men who have premature ejaculation, here are some natural tips for you on how to last longer in bed.
Premature ejaculation can be treated in these simple lovemaking tips. You can please your lady love as well as yourself.
1.Lovemaking position - The lovemaking position that you are in is very important to control premature ejaculation. Lovemaking positions like that of missionary and doggy style help the blood to flow more into the penis thus helping you to last longer and to avoid premature ejaculation. First try positions, where you are in control of her.
2.Sensitivity - To help control premature ejaculation, wearing a condom helps to some extent. If you do not want to wear a condom with your lady love, get your attention on the rest of her body. This will help you to last longer.
3.Diet - To get a good erection, you have to eat well. A good diet with nutrients and minerals will help you to last longer. Carbohydrates, is very essential for lovemaking. Food like bread, wheat, oatmeal, rice, dry fruits etc all help to make you last longer in bed.
4.Smoking & Drinking - Drinking and smoking is injurious to health. When you smoke, it gives you bad circulation and when you drink your prostrate gets inflated, thus leaving your lovemaking life to fade away slowly.
5.Exercise - It is very essential to keep fit in order to control premature ejaculation. Abdominal exercises will help you keep fit and thus improve to control premature ejaculation. Try out kegel exercises for your penis, to keep it fit.
Enjoy your lovemaking life and make your partner happy by lasting longer in bed.