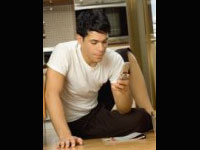 Most couples find it tough to excite their partner over the phone. These days they carry out phone sex for various reasons like being apart, fun or for a virtual orgasm. Some couples are successful in this attempt but there is a group who finds it tough to get either aroused or to give orgasm to their partner over phone.
Here are some tips for those who fall in the second category to have a better phone sex and enjoy the virtual orgasm or arousal.
Voice is the key factor that plays a great role in phone sex. This doesn't mean that you can have virtual love making, only if you have a seductive voice but seductive voice can be achieved through practice. So start practising those sexy lines and seduce her over phone.
Be clear on what you want to talk to her at that moment. So it is advised to imagine or dream about a sexual situation and step by step plan it before you hit the phone. This will help you in exciting her as well as yourself in a better way.
For the real feel of phone sex it's better to touch yourself while you talk. So during phone love making you can take the help of some sex toys or lubricants to help yourself to hit the pleasure.
If you are not in the right location the whole fun can be spoiled. Right place will set your mood as you will be free from any disturbances and phone sex is carried out better when you are alone, as the thought flow is not disturbed. Also moaning or seductive voices can be made only in a place where you are alone and free.
Phone sex can be enjoyed better only if you have a scheduled the time for it. This doesn't mean that virtual love making should be done as per a time table but right time can set the right mood. If you call your partner in the wrong time you might not get the response that you would be wanting and would end up spoiling the fun.
Imagination is the top most thing that would work out phone sex in a great way. This means that both the partners should try triggering each others imagination. So don't be shy when you indulge in it, explain the moves step by step but make sure that you don't sound too explicit, unless she wants it that way.
Make your girl touch herself. Ask her in detail what is she doing and how is she feeling as this will help you both have fun and pleasure.
Ask your partner about her sexual fantasies and the things that she would do to you if you both were together and vice - versa. By doing this you will involve her in the conversation well.
As I had mentioned earlier voice plays a vital role. Your moans, breath or seductive voices can make her feel hot and seduced.
Climaxing together will help you have the fulfilled pleasure. As sex is done for pleasure never spoil it.

Pick up your phones now and ring your lady love for that virtual arousal.