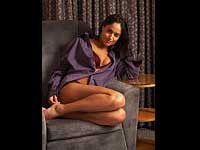 The new invention of lingerie will blow your mind. The latest of the lot is the clap bra! Just as amazing as it sounds this women lingerie will respond to the sound of a clap.
When it comes to lovemaking, things have just gotten easier in the bedroom. If you are worried about delaying that intimate moment, don't be because it can be just a clap away. In the United States Of America, an engineer has invented this women lingerie in such a way that the clasp opens when a clap is heard.
Definitely suited only behind four walls to bring in that intimacy during lovemaking, this clap bra is so spectacular that it will answer to millions of men who struggle in the bedroom. The clap bra of women lingerie features a device which would be that of the clasp and would open in a session of lovemaking only. Designed in such a way, this clap bra was first introduced by Sarafan who was really inspired by the wacky electronic undergarments of women lingerie, just like the musical panties.
Technology seems to be catching up and thus with these outstanding women lingerie, it will be sold like hot cakes in the fashion industry. So, if you are purchasing this clap bra today make sure not to use it when you attend a large audience and you need to applaud as it can cause you a great embarrassment.