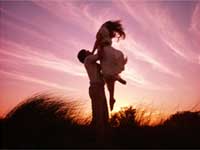 Priests are supposed to be the guides who can drive the sensual feelings of human beings into a divine realm. Now, a priest in Poland has raised many eyebrows by writing a book on saucy lovemaking. The book advises married couples on how to make their sex life "saucy and fantasy packed".
Titled 'Sex as you don''t know it: For married couples who love God", the book is being touted as the "Catholic Kama Sutra" in the country. Written by Father Ksawery Knotz, the tome goes against the traditional attitudes of the church towards sex. However, the Franciscan friar has his own reservations about going into graphic detail about how married couples can spice up their sex lives.
Knotz said that he wrote the book because there was a need to address issues such as sex, which used to be considered taboo by the Catholic Church in the past. "Every act - a type of caress, a sexual position - with the goal of arousal is permitted and pleases God. During sexual intercourse, couples can show their love in every way, can offer one another the most sought after caresses," the book quotes! However, explicit sexual acts beyond that required simply for procreation.

The book is available through one of Poland"s biggest retail chains, and has the backing of the country"s Catholic Church. It has become such a big hit with the masses that the publishers are already contemplating a reprint. Although many of his countrymen have questioned the competency of a celibate monk who lives in monastery to write about sex, Knotz has claimed that his experience comes from listening to married couples talk about sex.
Knotz added that he also wanted to get away from the staid attitude that many in the Church have towards lovemaking. In fact, he said that he has run a website giving sexual advice in both Polish and English for almost a year.