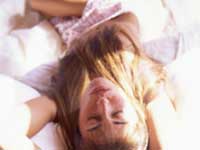 Lovemaking is a basic necessity bestowed on mammals by nature to multiply, but when it grows to become an obsession, it soon becomes an addiction some are ready to go to any extremes to satisfy.

A Brit woman, who's a sex addict, has told how her insatiable appetite for sex drove her to sleep with 1,000 men. The 25-year-old, who insists that her appetite for sex is nothing less than an illness, admitted that her addiction led her to turn towards the Internet as the hunting ground no matter if the men turned out to be ugly.

"That's another sad parts of this problem my desire for sex overrides any quality control issues," News of the World quoted her as saying. "It doesn't matter to me how it happens or what they look like and it's a bonus if they're well-endowed," she added.

[an error occurred while processing this directive]

"Most people who know me think I'm really sweet and charming. I don't smoke, I hardly drink, I've never taken drugs, yet I've slept with nearly one thousand men. "It's like having dry skin: You know you shouldn't scratch it, but when you do it just feels so good."

The customer service manager from Dagenham, Essex, who has failed to control her lust with hypnotherapy, SAA (Sex Addicts Anonymous) and anti-depressants, further said she's been sex-driven since 17, when she lost her virginity.

She said: "It was like someone had flipped a switch. From then I just developed an insatiable desire for sex. I've done it with hundreds and hundreds of men. I don't keep a tally because I'm not a slut I am just satisfying a need.