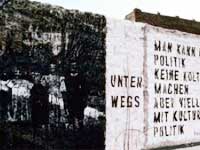 The fall of the Berlin Wall might be a reason to celebrate for many, but for Eija-Riitta Berliner-Mauer, the collapse of the wall has left her a widow, as she claims that she has been "married" to the giant concrete structure for 29 years.
The 54-year-old even claims to have cemented her relationship with the historical structure, which was erected by the Soviets in 1961 to halt an exodus from East to , by tying the knot with it in 1979.
The lady, who lives in Liden, northern, is a follower of a bizarre practice called objectum-sexuality, in which one fancies objects more than men and women.
Eija was just seven years-old when she first saw her well-built "fella" on TV and fell in love, so much so, that she started collecting "his" pictures and even used to save up for her trips to meet "him." And it was on her sixth trip, that they entered matrimony before a handful of guests.

After this, Eija got a new surname Berliner-Mauer, which means Berlin Wall in German. Though she is still remains a virgin, in the human sense of the word, she insists she has a full, loving relationship with the wall.
"I find long, slim things with horizontal lines very sexy. The 's attractive, but he's too thick - my husband is sexier. It's not just pleasuring myself. I want to please my partner when we make love," The Sun quoted her, as saying.
While the pulling down of the wall in 1989 paved the way for German reunification for many, it left Eija mortarfied. Since, then she's never gone to and now keeps models depicting "his" former glory.
"What they did was awful. They mutilated my husband," said Eija.
 
Story first published: Friday, May 30, 2008, 14:59 [IST]