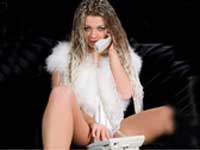 Intimate phone talk, a camouflaged name for phone sex, is as the name suggests, defined as sexually explicit conversation between two or more people on telephone. These conversations may take many forms, including those that involve seduction by voice, erotic stories, sexual anecdotes, confessions, candid expressions of sexual feelings or love; discussion on intimate topics and so on.
The business of phone sex is totally illegal in India. However some call center operators have secretly set up these operations in India. The Indian operators running these call centers normally have a legal and normal call center in the front but a phone sex center in the back end. Girls are paid heavily for this service and it is also suspected that there are plenty of models working in these underground centers.
Call forwarding is creating a menace, where, these girls are being connected from the Western countries directly to their cell phones. Many of them when questioned claimed that they were talking to their fiance and boyfriends in America and Western countries.
According to Indian authorities this is very difficult to control. The greed for easy money and material luxury is so high in modern India that the educated girls are jumping into this profession, their argument being, 'there is no scope for AIDS.' Today youngsters are very busy building their career but once they get time they want to get fun but they prefer to avoid any kind of commitment and some are afraid to go in for one-night stands. Those who are scared to go for any kind of one night stands are very comfortable with the phone sex and get full satisfaction from it.
Hot phone conversations exists both in the context of intimate relationships, that is among distanced lovers and as a commercial transaction between a paying customer and a paid professional. Couples engage in seductive and flirtatious talk when the inconvenience of distance makes physical intimacy impossible. This they say reduces distance by making them feel wanted and desirous.