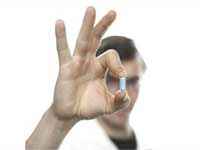 It's time for men to take contraceptive methods as their female counterparts. The latest in contraceptive inventions is a 'male pill' that guarantee effective contraception for men. After its wide usage, only one in 100 males using the injections conceived a child.
This testosterone injection could revolutionise family planning methods. For couples who cannot, or prefer not to use only female-oriented contraception, options have been limited to vasectomy, condom and withdrawal. A male hormonal contraceptive regimen may be a potential, novel and workable alternative for them!

One injection consists of 500 mg of a formulation of testosterone undecanoate (TU) in tea seed oil. The injection has to be taken once in a month. No serious adverse events were reported and beverages,condoms,contraception,family,male pill,reproductive function,vascular disease returned to the normal fertile reference range after the discontinuation of this injection.
This hormonal male contraceptive regimen requires more extensive testing with a focus on cardiovascular, prostate and behavioural safety. Dr. Yi-Qun GU, MD, of the National Research Institute for Family Planning in Beijing, China conducted this study. The study has been published in The Endocrine Society's Journal of Clinical Endocrinology & Metabolism (JCEM).