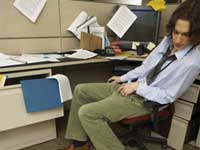 Erectile dysfunction has always been treated as a serious concern with regard to the lovemaking. There are many erectile dysfunction drugs in the medical market to cure the problem. All along with it there are many concerns regarding these drugs too.
One of the main concerns with regard to the erectile dysfunction drugs was that they pose a major threat to the patient"s vision. The April issue of Archives of Ophthalmology, one of the JAMA/Archives journals comes with an answer to this concern. The researchers state that erectile dysfunction (ED) drugs like Viagra and sildenafil pose no threat to vision.
The ercetile dysfunction drugs that treat the disorder in men do not appear to have visual side effects when taken daily for six months. The advent of the medications sildenafil citrate (sold as Viagra), tadalafil (sold as Cialis) and verdenafil hydrochloride (sold as Levitra) has profoundly changed the treatment of erectile dysfunction.
These medications are known as selective phodiesterase type 5 (PDE5) inhibitors because they treat erectile dysfunction by interfering with the action of the compound PDE5 on the blood vessels in the penis. However, PDE5 inhibitors may also act on similar compounds in the retina, the part of the eye that receives and transmits images.
The frequency of erectile dysfunction, which is a form of peripheral vascular disease that impairs men"s abilities to achieve and maintain an erection, increases dramatically with age and in the presence of cardiovascular risk factors. Therefore, ophthalmologists for ocular disorders such as diabetic retinopathy, macular degeneration and ocular vascular disease will also follow up many men who take PDE5 inhibitors to treat their erectile dysfunction.
Furthermore, PDE5 inhibitors can exert direct effects on the retina, and such effects probably account for many of the visual side effects such as blue-tinged vision and light sensitivity that have been reported!
AGENCIES