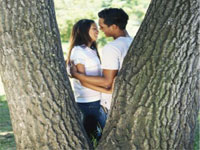 Men suffering from erectile dysfunction (ED), a sexual disorder characterised by the inability to develop or maintain an erection of the penis, may now look to the French maritime pine tree for natural Viagra.
A new study at the Medical University of Sofia, Bulgaria, has shown that Prelox—a blend of Pycnogenol, the extract from the bark of the pine tree, and L-Arginine aspartate, an amino acid—can improve the condition of men with erectile dysfunction naturally.
Prelox was found to improve the performance of effected men in just one day during the study, to be published in an upcoming edition of the International Journal of Impotence Research.
[an error occurred while processing this directive] The study investigated the mechanism involved in relaxation of arteries as it is required for improved blood flow in erectile function.
It was found that Prelox markedly increased the production of nitric oxide, the key mediator involved in expanding arteries for elevated blood flow during erections.
By the end of the study, all men taking Prelox experienced almost a 100 percent increase of orgasmic function, sexual desire, intercourse satisfaction and overall satisfaction.
Pycnogenol, an ingredient of Prelox, contains powerful bioflavonoids that originate from plants and help keep blood vessels dilated for optimal blood flow. L-Arginine, an amino acid found in many foods, is the other ingredient that promotes blood flow upon blending with Pycnogenol.
Dr. Steven Lamm from New York University School of Medicine has revealed that Pycnogenol and L-Arginine work together to enhance nitric oxide, a crucial chemical for sexual arousal.
He believes that Prelox is the perfect solution for men who want the same outcome as other prescription nitric oxide enhancers, but with a natural approach.
During the study, 50 patients with moderate erectile problems were asked to take two Prelox or placebo tablets in the morning and evening.
The erectile quality of men was observed through questionnaires. The researchers also collected the subjects' semen, spermatozoa, and blood samples to measure nitric oxide and testosterone.
The study consisted of a four-week period, followed by a wash-out period, another four-week period, and a final washout.
At the end of the treatment period, patients treated with Prelox achieved high questionnaire scores, whereas the placebo group had no significant effects.
After one month on Prelox, the patients' erectile quality appeared almost as healthy as that of twenty-year-old men. The mean number of intercourse also almost doubled during treatment for those who took Prelox.
The placebo group, on the other hand, did not show any changes in the production of nitric oxide activity.
"This is the third clinical study showing that men can achieve greater erectile quality with Prelox, move past their performance anxiety and get more satisfaction from their sex lives," said Lamm.
Blood analysis revealed an increased testosterone level during supplementation with Prelox. According to the researchers, this is not a direct result of the supplement but is typical for men with increased sexual activity.
The men in the trial reported a dramatic increased frequency of morning erections, and their partners said that they had observed a higher interest for sex as well as better performance. (ANI)