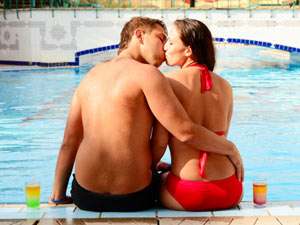 It is time that you take a break from your hectic work schedule and plan a holiday with your partner. If you or your partner are busy enough to invest in a long summer holiday then just go for getaway weekends. When you are planning to spice up your love life, then be prepared to impress your man the very first day. Check out these points, if you are planning for a summer getaway weekend with your man.
Points to remember for a sexy getaway weekend:
Plan: Firstly, plan where you would like to spend your getaway weekend. Keep each others likes and preferences in mind. If he loves beaches then go for a beach side resort. Pre-planning your holiday beforehand will surely help you spice up your summer getaway weekend.
Arrange: After planning the location, make arrangements for rooms and other accommodation necessities. If you are thinking of surprising your man, make sure the arrangement suits your holiday idea. Do remember your budget while making arranging the short trip.
Get prepared: To spice up your getaway summer weekend, turn sexy! Remove genital hair and other unwanted hair from your body. This is a big turn on for men. Wax your legs and almost whole body. Get a body massage if possible; this will surely add sensuality.
Surprise: When you are ready with your plan and arrangements, then start thinking of how to surprise your man. You will not only impress him but, will make him fall in love with you all over again. Think something sexy and innovative to surprise him. Carry few sexy lingeries with you to spice up your nights!
Take precautions: We understand that you are going for a sexy summer getaway weekend. But, this doesn't mean you should forget your precautions. If you don't wish to get pregnant, carry condoms and pills (prescribed by your doctor) to be on the safer side. This will not interrupt your spicy holiday in anyway!
How are you planning to spice up your weekend holiday?