Making love in water is one of the most appealing things this season. As monsoons are going to hit, it is time to try up something that makes sex in the rain or bath tub an excellent experiment. Couples would love enjoying sex in the bathroom. Why just restrict to having sex under the shower. Use the bath tub or swimming pool to try different sex positions.
Sex positions to try in bath tub or swimming pool: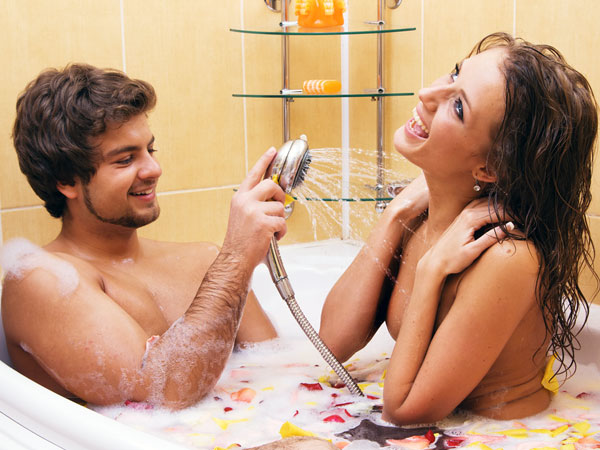 Relax on your back and float: This is one of the relaxing sex positions. Known as the bubbly back float water sex position, couples can try this any time. The woman floats on the water level with her body straight. The man will sit on his knees and control the intercourse. While the woman is relaxing, this sex position increases the pelvic flexibility. The man can control the penetration his way and the woman can spread her legs to enjoy deeper penetration.
Raft position: In this position, a man plays the most important role in the intercourse. The woman will lie on the raft and the man will stand on the pool. The woman will lie on her stomach and the man will penetrate accordingly. But, in this position, make sure the water level is till your upper thigh (till your groin).
Water tube: Use the small tube for having some spicy time with your partner. Try the criss-cross position with your man while relaxing in the pool. Sit on his lap with your legs spread wide. Let his legs fall out of the tube tub. Dominate him by taking his groin inside and control the intercourse. Let your man relax and enjoy some fun while you dominate this sexy session.
Sea horse: This is one of the lovemaking position where both the man and woman enjoys to the fullest. This is one of the sex positions in which the woman can reach orgasm without much effort. Sit in the cowboy position and control the penetration. While you are busy speeding up the session, take a hand shower and try something freaky with your G spot. Run water at medium flow and let your man add some fingers to the stimulation. If you can't move while suiting yourself, make your man try from below. He can't see the g spot so, let him control the pace and penetration while you enjoy reaching orgasm.
These are few water sex positions that can be tried either in a bath tub or in the swimming pool. Which is your pick?