On-screen romance has always been tempting for couples. From sleazy to sensually, rocking sex scenes have always forced couples to watch and try the same with their partners. Whenever we watch some sexual scenes, we tend to watch till it ends and see a modified version in our dreams. If you get inspired by on-screen sex/romantic scenes, here is a list of ways inspired from movies that you can watch and try with your partner to spice up your sex life.
Spicy movie inspired ways to seduce him: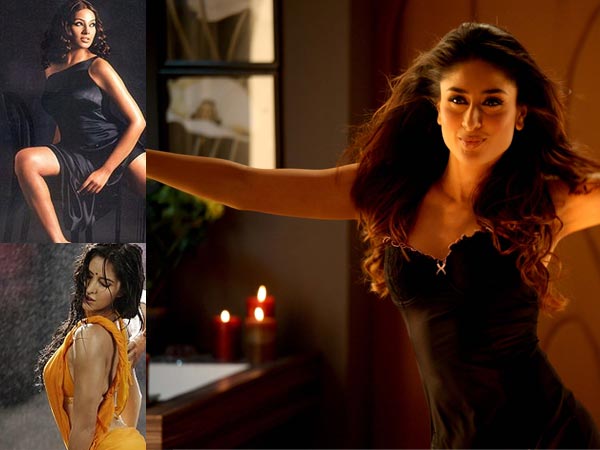 A sexy outfit: Saree is considered as a sexy outfit. It is because the figure of a woman is best complimented in this traditional outfit. Many actresses have wore this sexy outfit to attract the male actor. From Raveena to Katrina, every actress has tried this sexy look to seduce a man. Just wear a saree with a bikini blouse like Katrina did in De Dana Dan song, Gale Lag Ja. Go for light colours such as white and yellow to show your translucent figure sexually.
Rain dance: Ahh! This is one of the most common scene that is visible in movies. Actresses wear sexy dresses (almost transparent) and dance in the rain to seduce the man. Remember Raveena Tandon's famous hit song, Tip Tip Barsa Pani from Mohra? Even Rani Mukherjee romanced with Aamir Khan in the movie Ghulam. Dress up in a white dress and try rain dance to seduce your man in a filmy style.
Beach make out: Everyone would love to have sex or at least make out on the beach. Watching hot chicks in bikinis is tempting for men. Whereas, flirting with a well built guy is great for women. It is a natural instinct and you cannot help it. After watching onscreen couples romancing on the beach, you would get more tempted to try this. If not sex, try to make out on the beach with your partner. Bipasha in Jism and Preity Zinta in Salaam Namaste have appealed to the masses with their acts!
A sexy dance: How about dancing in a sexual way to attract your man? I am not talking about pole dance. It is the sensual dance that Kareena and the yesteryear actress Helen did in the movie Don. The sexy moves in the song Yeh Mera Dil Pyaar Ka Deewana was so appealing to the eyes of a man that it became an instant hit. You can try such sexy moves in front of him. Do not forget to wear thigh slit gowns!
These are few on-screen romance scenes that can help you spice up your love life.