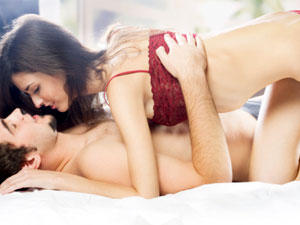 While having sex, you are completely lost in the flow. While you go with the flow, you do not bother about anything but pleasure. To make the session more sexy and erotic, you should have some tricks to increase the level of excitement in your partner. Check out few tips for women to increase the intimacy while making love.
Intimacy tips for women:
Play with yourself: Men love to see their partners playing with their own body. So, just play with yourself in front of him. Make sure he doesn't touch you while you play and turn him on. Use props like scarf or belt or chocolate if required. He will definitely get turned on within seconds after seeing this bold act of yours!
Do you have toys?: It is difficult to excite a woman. If you are not that excited, just play a dirty trick on bed. Take out your sex toy and start playing with it. Do not let him touch you. This intimacy tip will be a big turn on for your man as he will just see you but you will not let him touch in the beginning.
Mouth job: Men love it!! They might share this likeness with you or hide it. But, this intimate tip should be performed while having sex. So, use your tongue to enjoy while making love with your man.
Dominate: Tell him what he should do in bed while having sex. This is a big turn on for a man because most of the women are shy on bed and this prejudice or a fact is accepted by all the men. Still, the urge to get dominated is a big fantasy in men. If you tell him what and how he needs to satisfy you on bed, your partner will be more excited and this will make your sex more erotic.
Positions: Trying new sex positions is not only experimental but impressive too! To bring a change in your love life, get out of your bed. Try new sex positions and explore the world of eroticism. This spicy attempt is great to enjoy a healthy and active sex life. This is because making love becomes boring after a particular period. In most of the cases, men easily get bored of sex and in few cases, women get tired of the linear sex life. This is why, it is suggested to try new sex positions.
These are few intimate tips to perform while you enjoy sex. However, you should be confident before attempting them. This is because, a small mistake or a bad performance can be a big turn off for him.