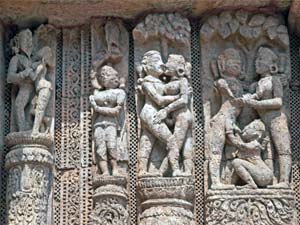 Turn ons for men are really running out these days. As our lives become more stressful, the art of lovemaking too has to evolve to accommodate our life styles. So what can you do to keep your man interested in you physically? There will be a lot of stuff you must be reading everyday on the net that helps enhance libido. There are special oils with unpronounceable names, aroma massages and what not. How about getting the basics right? What did people do when aromatherapy was not such a rage? Instead of trying some weird acrobatics in bed to turn on men fall back on tradition.
Here is a list of traditional 'dos' that make sure that the art of lovemaking prospers.
How To Turn Men On?
1. Lighting: Lovemaking is all about the senses. The sense of smell and touch are the most prominent among the five senses when it comes to physical love, even more than the sense of sight. So use that to your advantage. In ancient times, the dim light of the oil lamps restricted sight but accentuated the senses of smell and touch. So adapt this lighting scheme in your modern life. Use candle lighting to set the mood for love.
2. Wet Hair: This is a time tested strategy. Men cannot resist the smell and feel of just washed hair. The eternal handbook of love, the Kamasutra states that a woman desirous of engaging in the lovemaking must bathe from head to toe and then go to her husband with wet hair. So include this in your list of aphrodisiacs.
3. Aromatic Oil for the Hair: What I say now is going to see ridiculous by modern standards but it is a good point nonetheless. Hair oiled with sweet smelling jasmine oil is traditionally supposed to be a huge turn on for men. Oily hair and a turn on? You would freak out at the very idea! But trust the wisdom of the ancients. As I said before, in the art of lovemaking the way your hair looks is not important but how it smells makes a difference. You don't have to pour the bottle of oil on your head, just a little will do. Moreover your hair is not unruly when you oil it. So even if shampooed hair is the modern convention of beauty there is no harm in trying this trick when you are trying everything else.
4. Kohl in the Eyes: Indian men have had a penchant for a dark woman with dark hair and dark eyes. It is only recently that a light skinned light eyed beauty has taken her place. Darken your eyes with kohl or kajal and see how it turns on men. Together with the dim lights, sweet smells and the deep delved darkness of your eyes, a night of wild lovemaking will ensue.
Use these turn ons for men to enhance the libido of your partner and you can thank tradition later.