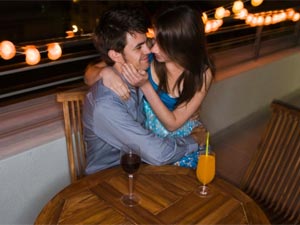 In this busy life, couples hardly get time to make love and the interest also goes off gradually due to office and household tensions among the couples. In some cases the man is very busy and seldom gets time for his wife or vice-versa. Here are few tips to spice up romance and get back the lost romance.
Tips to spice up romance:
Give a gist: Message or send a mail or call your partner and give a small hint of the planned evening. Don't reveal the plan but just send something which symbolizes that you are in a mood to make love. Even if your partner asks you to reveal the secret or plan, don't give any details. Try to make it a surprise. You can also attach a note to the lunch box or laptop so that the partner is surprised at work!
A sensual massage: This is a common method to spice up romance and the massage generally ends up with orgasm. The massage is also relaxing and provides relief from the work load taken whole day. Give a steamy massage and see the magic!
Bath together: Take out some time and keep an eye on your partner. Follow her and enter the bathroom when she plans to take bath. The bath is one of the nice tips to spice up romance!
A romantic date: A candle-light dinner followed by sensual dance on soft music is one of the other useful tips to spice up romance.
Weekend getaway: A nice idea to spend time with each other and make love endlessly. Plan a getaway weekend and surprise your partner.
A new set of lingerie: It can spice up romance any time! Wear your man's favorite colored lingerie and show it off when he comes to bed.
Talk dirty: Having dirty talks signals that you want to make love and also makes the partner aroused for an orgasm.
Use sensual fruits: Mix sensual fruits with dirty and sensual gestures to excite a man. He will forget all the office work and get intimate with you.
Try these tips to spice up romance and see the change. Even after a busy working day, you can have an intimate moment together!