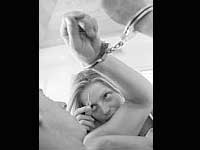 The art of lovemaking is the best feeling that a couple in love shares. The union of a couple in love is through the art of lovemaking and the emotions filled between those sheets. Generally, the man is the first to get the woman weak in the knees with his sensational behavior and attitude he puts across to her.
Here below are some ways where the woman can take the upper hand and please her mate by simply teasing him around in bed. Below stated are a few tips on how women can tease their man. Follow these simple lovemaking aspects to enjoy a night filled with romance and spicy love.
1.The best way to tease a man is to be slutty. You have to be the center of his world. Wear something that is jaw dropping that will make his head swirl. You can wear on something revealing that will get his eyes focused on you for the rest of the evening.
2.To tease a man all you have to do is have fun. Get him a surprise gift like that of lingerie or a sexy pair of inner wear. This will get him surprised. Ask him to try it on and throw you a fashion show.
3.Eye to eye contact is the best way to tease him,Look at him in that cheesy kind of way and he will definitely get the idea you want to get to know him differently. Your look should be naughty yet innocent. Try to tease a man by also playing with your lips. This creates wonders.
4.Talking dirty can tease a man instantly. This is the key to exactly tell him what you want him to be part of. Dirty talk also helps to keep the session alive and romantically active throughout the evening. To get started on, whispering in his ear at the grocery store or with a group of friends will make him wild.
5.Another way to tease him is by wearing high heels. Lingerie along with high heels is the best for a lovemaking session. These types of clothes will enhance your lsessions and create an atmosphere filled with love throughout the evening.
These are some of the lovemaking tips to tease a man you are really in love with.