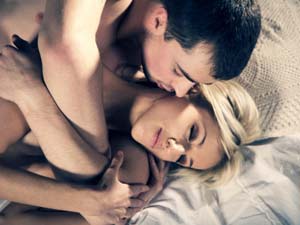 Is your man too bored to even look at you in bed? Do you find him reading books, watching TV or using a laptop when you are around? This means that your presence is not turning him on to satisfy you in bed. May be, he is not happy the way you dress, or the way you react to those pleasure moments or whatever be it, find out, change, rectify and please your man. Take a look at the lovemaking tips that can help you spice up romance in your life and make the most of it.
Nowadays, women are too much into family planning. They try not to do anything than suffer later for the 10 second excitement. Men often are in a look out for alternatives due to these reasons. But these things may even get to the extent of ruining relationship. As a women, know the ways to please man and keep him under control.
4 Ways To Please A Man In Bed
1. Dirty Talk - Ask couples and most of them give common reply, "Dirty Talking". Talking slang and filth are a major turn on for couples. Even songs sung with the dirty lyrics that make men get into the mood. You can even show-off your body with a strip tease or a dirty rap, the body movements are enough for your man to get rid of the things he is busy doing.
2. Get Touchy - Start rolling your fingers on his body (especially private parts). Getting naughty physically makes a lot of difference in pleasing man in bed. Wild coloured nails running on his body cannot stop him from melting like an ice cream. Count seconds and your man is back in the game.
3. Action Reaction - And when your man is pleased, your job doesn't get over there. Every action needs reaction so start moaning, singing and add a lot of drama in bed. The action is prime as it leads to good pleasurable climax.
4. Climax - Yes, as a woman you haven't yet pleased your man. After, you set the mood, you need to get into mood, make it more serious and sensuous than funny. Satisfying means a man and women need to reach orgasm and thus continue with a safe intercourse, all these shouldn't be special combo or festive dhamaka offer but should happen more and more to develop a better physical intimacy.