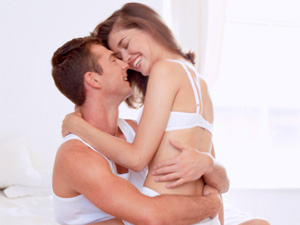 Your lovely wife, lying on the bed,
grasps her own feet
and draws them up until they reach her hair;
you catch her breasts and make love:
this is Sky-foot.
This is just one way of making love to your wife on bed and having hot orgasm. Ardent young men, do not neglect the preliminaries to perform good orgasm! Endeavour to satisfy your partner. Listen to her desires. It is such a delight to kiss, to caress, to nibble one another, to explore with your hand or your mouth her body, her neck, her belly, down to her innermost curves. No part of the beloved's body should be neglected if you want to perform good orgasm. Fulfilled, the beloved will return these kisses and caresses wholeheartedly.
Sometimes you might feel that you are confused as to where to begin and where to end, so here are some steps to perform good orgasm and it will definitely satisfy both you and your partner. It is traditionally followed that men should have the dominating part of action in performing libido.
Beginning: Several preparations a man and a woman should take before their first contact after marriage. The male partner makes more or less similar preparations. Upon entering the room, he should occupy a place at the right hand side of the female. He should begin with stroking the hair of the bride while talking gently to her. Then he should caress her hands and hold them. Both of them may enjoy a mild intoxicating drink to do away with their shyness. The male must slowly reach his hands under the clothes of his partner and grope for the fastener. All other things like embracing, kissing, fondling, undressing and finally intercourse follow usually and this ends to a successful sensual fulfillment.
Undress your partner: A man must begin to undress his female partner right during the foreplay and sweet-talking. The female partner will naturally protest sweetly against this action. But this protest is superficial only and dies out after a few kisses. Thus, slowly undressing the female partner, a man must also show his readiness, while touching and stroking his partner at sensitive spots like armpits, groin and breasts. Such actions surely kindle the fire of making love in the female partner and she readily dedicates herself before the desire of the man.
First Intercourse: The male partner should slowly begin to excite the female by gently stroking her thighs and groin area. The female will respond to these actions by opening up her posture. If the female has never had a close contact with the male, winning over her confidence is a crucial point for the male partner. It is mostly the male counterpart who has to take the initiative for making love.
Gentle talking is the best way to win the confidence of such a woman to perform orgasm. It should be followed by gentle caressing, stroking, fondling etc. of her sensitive parts so that the female acquires an open posture. It is also the high time to start undressing the female partner. Intercourse is a bizarre experience for a virgin woman. She doesn't know how to express her excitement and sentiments. Hence, a prudent male must be watchful of her postures and natural responses. During the first intercourse, a woman leaves her body loose, closes her eyes, and rubs her thighs against those of the male ultimately dropping her shyness. A watchful man understands these signals and responds according to her own instincts.
After you perform orgasm, don't part away with your partner. Be indulged in some kind of romantic talks and feel each other within themselves then this makes it a perfect night for them.