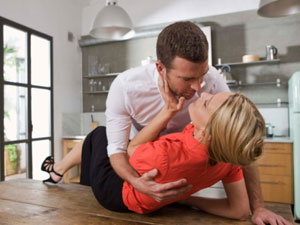 Making love starts getting sensual if some foreplay is done. Foreplay before lovemaking is a nice option to open up the comfort level and make her feel wanted. Through this you can get to know each others desires, anxieties and fantasies which can enhance the lovemaking session. It also increases the sensual drive among the couple.
Women love foreplay so men needs to be perfect in this technique. Therefore check out the foreplay techniques to arouse a woman:
1. Don't immediately start making love. Spend some time adoring her beauty and good qualities. Slowly kiss her and continue talking.
2. Caress her and try to arouse the woman by playing with her sensual spots. Try to give ample of kisses all over her body to arouse her.
3. Use her ears and neck by tickling and kissing them. Also caress her breasts to arouse and please her. Breasts are the most sensitive body parts of a woman and also excites a man so use it in foreplay.
4. Suck and caress the woman body. Women love to get love bites. Give some and make it raw!
5. Finally use the g-spot before making love. Playing with the g-spot gives immense pleasure to a woman. Women therefore love foreplay mainly because of the g-spot which arouses them.
Use these foreplay techniques and enjoy lovemaking!