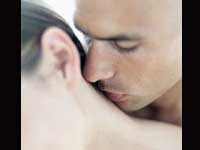 Why is it always a man who gets all the attention in a bedroom?
Isn't it always about how to please your man and how to make him reach an ejaculation , or how to treat him well in bed etc? But , what about knowing what a woman wants or how to make her feel special and reach a perfect orgasm?
Here are a few tips to make her feel special this time and give her a delightful treat on a sweet bed of roses. Its time that you take control and dominate her world to give her extreme pleasure that will be unforgettable.
1.You should first know that there are many ways to please a woman. Women get turned on by little surprises. So it would be ideal if you send her a bouquet of flowers or just simply send her a little card asking her out for dinner, in an exotic manner.
2.Give her a gentle erotic massage. This really works , if she is stressed out after a hard day's work. Rub her shoulders, back and then her neck with a delicate touch.
3.Prolonged foreplay increases the chances of her reaching an orgasm. So build up a strong sexual tension by kissing ,touching, caressing and massaging her.
4.The fanciest tip for you to follow is that you can help her reach multiple orgasms if you prolong your ejaculation. Penetrate normally and when you are about to ejaculate simply move your hips in a circular motion in her to control your semen.
5.When women get turned on , they have a natural lubricant that fills their vagina. So don't use lubricants to stimulate her. Without products , you will know if things are working out well sexually.
6.Find and stimulate her G spot. It has the feeling like that of the roof of your tongue. It is situated about 2 inches inside the vagina on the top. There are two basic ways where you can pleasure the G spot, with your fingers and with a love position that helps hit the G spot.
7.Use the best position to make her climax. The reverse missionary ( woman on top) is one of the easiest and most loving position for a woman to orgasm.
8.Giving her oral pleasure is one of the most fastest ways to make a woman beg for more. It helps her to feel like heaven and also gives her multiple orgasms. Some women feel that oral sex is much more better than intercourse.
Your lady will feel an earth shattering experience if these tips are implied. Most of all worship her body and keep an open communication when you make love to her. It will go a long way and she will know and feel that she too is a participant and not an onlooker.