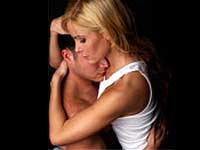 Guys like to experiment with anything and everything in the bed. Men are the one who generally take the charge of love making. So a change in the routines always arouse them.
The 'girl on the top' position always turn the guys on, as it provides them the best view of the spilling out boobs and the other sexy parts of their lover.
The studies reveal that the girl on the top is the most pleasure-giving position for the guys as it also gives them the easy-access to all the 'fondle' points.
It provides maximum pleasure, as the angle stimulates their G-spot. It gives them the chance to take control of the pleasure, too. The guys enjoy themselves when they don't have to bother whether the partner has accomplished the girl orgasm.
'Girl on the top' position expresses her 'yearning' for the man. Besides the girl can also experiment the tempos and the angles which give both of them, the maximum pleasure.
Slowing down and giving a deep kiss when entering the fast pace will surely warm him up. Try to hold back the girl on top as long as possible, before both of you tip over the edge.