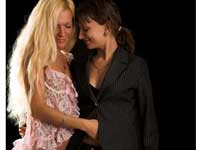 The method to undress is the most neglected area while discussing the art of sexual pleasure. Any sexual expert may start from the caressing methods and will progress directly to the peak level. The shedding of clothes often goes unnoticed. Understand the hidden power of sensual undressing to make your night an exciting one.
Let the breeze take the lady love
You and your partner may be preferring a relaxed union after a sterneous day. Let the ambience catch your sexual mood and prepare to seduce your lover. Present your lady love with a satin or silky nightdress. Take time to taste your favourite cocktail with your partner in your balcony. The moonlight may sweep over you and the breeze may lift around your lover's soft attire. Play with your finger around the loops of her attire and let it slowly reveal her feminine curves in the dim light. Never arouse her with your caressing fingers. Your lady love may be feeling shy, and take that final moment to caress her in your hands.
Wet to set the sensual ambience
Since how long have you experienced the showering of water drops on your body together? Just cuddle under the bathroom shower together. However, this time you may not be getting together like those old days. You are in your out fittings! Let the water drops drench your garments and help each other to squeeze out the water in turn. After some time,suggest to your partner in a naughty way that, you may prefer to see her glowing body under the water. Take really slow steps to remove each garment and by the end, both of you will be irresistible to get into the pleasurable union.
Storm of passion
Have you ever considered violating the rules in your sensual play? Is it the same monotonous way of either you undress her or she undress herself after the initial stages of foreplay? Just imagine dragging her from the midst of house chores at an unexpected moment. Don't wait for soft undressing as you pass passionate hugs and violent kisses all over her body. Let her clothes get tear off in the stormy lover's hands and believe me, she will respond in equal wavelength to your ecstasy. (Warning: Be assured before tearing her cloth that you are not spoiling her favourite attire, to get the response in a totally opposite manner.)
Now do you want your lady love to undress herself in a sensual way? Is she a little shy to do so? Here are some steps to make her undress herself.
Flatter the vanity
Is it a rare treat for you that she appears in her transparent night dress or those sexy lingeries? Consider the long gap since she appeared in those sexy attires. She must have felt that you haven't got seduced by her attempts or must be feeling a little inferior about her unbalanced body measurements. This is the time to flatter her. Tell her the hot actress in the magazine or in a show, reminds you of her appearance in those skimpy clothes. Tell her how you marvel her sculpturous physique in those attires. Seduce her further with those hot conversations and she will be all ready to win over you.
Seduce her senses
A woman may feel a slight inhibition at the back of her mind while undressing in a sensual way. The simple way to bring her into the open spirits is to seduce her senses. Enjoy a cocktail session or an evening at the pub with your lady love and let the drinks unbind her unnecessary inhibitions. Caress her a little and ask her to seduce you in the dim light. Slowly brighten the lights as she unwraps her assets and now you know, where to lead to.
Sexual experts believe that creativity determines the quality and duration of your sexual life. So why wait? Make a fresh start tonight for a wonderful sexual relationship.