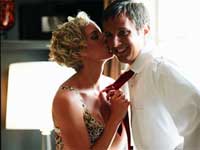 Wondering where all that love and lust(re) has gone? Sex, no more seems interesting? Or is it that you have run out of ideas...What next? Then this is for you. Read on till the last word.
Does your life look something like this? Alarm bell, which invariably gets bruised and battered the minute it decides to follow orders. Groggily you drag yourself out of bed, reach out to brush, clumsily squeezing the toothpaste. Gobble breakfast and set out like a brave man/woman into the ever-jarring traffic. Once you've braved through the traffic, you work like a zombie (ok this is for those who have'nt tasted job satisfaction) the whole day, yes of course some through the night, thanks to the mushrooming out-sourcing companies. Not to forget our homemakers, who frantically run through the day with a series of chores. After a nerve-wrecking day/night, get back to home, thulp some food and off to sleep. Making love is the last thing on your mind. For the few who try to spice up, there is no charm, it is another mundane job. Man, what are you doing with your life?
Well, if you did not know, sex is most relaxing and is a stress buster. Anything that becomes a routine gets boring. Yes your sex life too can get boring. But there is good news, there is always a way to spice up the flame in your life.
For many, lovemaking is restricted to the night, in a bedroom behind closed doors. Don't make rules. Morning, wake your partner with a hot kiss and get naughty between the sheets. Do some touch therapy and hit the roof with what follows. Have a bath together. If you have a bath tub, both of you get a hot bubble bath together. Soak your skin in the warmth of each other's bodies and then there is the hot water to add on to the heat. No tub? No problem, rub each other and lather up foam and play around with the foam.
Dress and undress each other, steal some moments just for each other. Give each other time and importance, then no matter how hard and busy your life might be, you will still crave and cringe for that special touch and kiss. The warmth that melts your body will melt your souls as well. Keep the flame of love burning in your lives. That is what life is all about, LOVE. Love the mind as much as you love the body. Only when the minds meet, can the bodies experience that ultimate breakthrough.
Give each other a massage, feeling each body part with your fingers and palms. A massage with the feet also will do some good. Aromatic massage oil will help. After that what follows can't be guaranteed. Light, scented candles all over. Don't restrict yourself to just your bedroom. Make love in the drawing room, kitchen, on a carpet, morning, noon, night. Do it just about anywhere, anytime. Break all rules (that's if you have made any). Ignite your senses, use your imagination. Cook together and surprise your partner with kisses in between. Take him/her by surprise. Pop in a kiss when least expected, when doing the dishes, laying the table... anytime is kiss time. Don't wait for the clock to strike 9 and decide whether you should or should not. Just do it.
Watch a movie together. When I say movie, I don't mean a family drama or a Mr. Bean rib tickler. Indeed Mr. Bean is adorable, with due regard to him, but that's not what we are talking about here. Watch an adult movie together; it will instantly get you into the mood. Prolong foreplay and delay the plunge till you reach the peak. Let your tongue do the talking. Run it on your partner's turn-on spots like lips, neck, ears, arms, feet...figure out what is pleasurable for your partner and attack with your tongue. If one of you reach orgasm first, don't jump off and roll onto the side and snore. Be more sensitive, go on; take your partner to climax, cradle and rock together in each other's arms and let love pangs sink in. Kiss and sleep in each other's arms.
Send you children away on holidays and weekends to grandpa's. They would love it and you would too. Catch on a romantic date together, just like courtship days. Dress up, turn him on with that plunging neckline, you have always wanted to wear. Wear his/her favourite colour. Go lingerie shopping together, better still, gift your partner with all the impish stuff you fantasize to see them in. Hide them under the sheets, pillow, in the oven, shoe rack etc. Just get wacky.