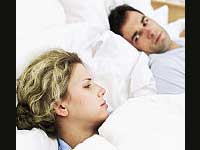 There are so many lovemaking facts in marriage that many are not aware of. In one research it is proven that regular sex and intimacy can be a relationship saver for married couples who are 'neurotic'.
The lovemaking facts in marriage is that neurotic married couples are usually moody, irritable and less happy in their relationships, which in turn leads to divorce. The study finds that making love often is the solvent for their problems.
The study was done on a 144 newlywed neurotic married couples, who were married for the four years. They were asked on how often they made love and how happy they were in the marriage. Based on the study, it was once a week during the first six months of marriage and towards the beginning of the fourth year, it had dropped to three times a month.
It is said that the lovemaking facts in marriage of neurotics and making love was not related to the amount of times they spent in sexual intercourse but the benefit of having it regularly wiped out their 'happiness deficit" completely.
According to the lovemaking facts in marriage for neurotic married couples, it is said that Neuroticism is consistently associated with negative relationship outcomes.
The results for lovemaking facts in marriage came to a conclusion that that the frequency with which couples engaged in sexual intercourse with one another over each six-month interval moderated the implications of their neuroticism for their marital satisfaction.