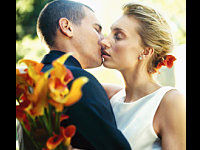 The art of kissing is beautiful. It is said that kissing comes with a lot of affects which is proved to be good for one's health. There are a few kissing facts which is rather surprising as many have not heard of it.
The facts are listed below so that next time when you passionately kiss your partner, these thoughts will run across your mind.
1.The most basic fact is that kissing helps one to loose weight and those extra pounds will disappear the more you passionately share a kiss with the one you love.
2.It is said that lips are much more sensitive other than the finger tips. The kissing facts is that lips help to turn a woman on as soon as it is been touched. Lips is the erogenous zone of a woman.
3.The hidden kissing facts is that when you kiss it helps to ward off certain dental problems. Dental problems are prone to many people today so all you have to do to get rid of dental problems is to kiss your partner passionately.
4.Another kissing facts is that when two people kiss they exchange bacteria. The mouth is said to have at least ten million bacteria present.
5.Not only kissing helps to reduce stress for women it also helps to get rid of emotional and psychological pain that a person goes through as it is said to be of real comfort when you kiss your partner.
These are some of the kissing facts that are really unbelievable.