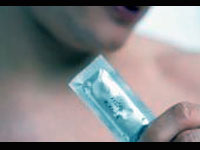 Can condoms really protect you against pregnancy or Human immunodeficiency virus (HIV) and Sexually Transmitted Disease (STD)? Experts demand that condoms are only 85 percent successful in protecting you against pregnancy or HIV and STDs.
Prevention Of Pregnancy : Experts say that couples who indulge in an intercourse, though they use condoms if you are doubtful about pregnancy or of getting affected with any of the STDs or HIV, it is advised after the intercourse immediately consume any birth control pills but make sure that you go to a doctor before you take it. Also don't make the consumption of birth control pills a habit as these pills can have worse effects on your reproductive system.
Protection Against STDs : Condoms those are made out of latex or polyurethane ensures protection against STDs like erpes, chlamydia or trichomoniasis but condoms don't protect you against STDs those are transmitted through skin-skin contact, especially genital warts. Make sure that you don't opt for condoms those are mode out of animal tissue as these don't ensure protection against STDs.
Protection Against HIV : Condoms don't ensure protection against HIV. If you or your partner are infected with HIV then it can be transmitted even if you use a condom. The only way to avoid HIV is to indulge in oral sex.

Safe Intercourse : Experts say that the concept of safe intercourse is not true. The chances of condom breakage is higher, so at any point of time you indulge in an intercourse there are chance that your condom can break and lead to an unsafe intercourse. They say that latex condoms are more durable but this doesn't mean that they are the safest ones to use, as there are chances of condom breakage in these types too.
So be careful before you wear your condom.