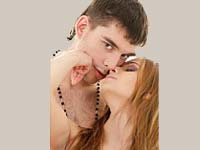 You might have heard that people vary from region to region and place to place. One survey has read the sexual instincts of people of different parts of the World. The most astonishing discovery was that Sweden has the most number of bisexual babes in the world and San Francisco is the kinkiest place to visit.
Here are few other hottest facts revealed by the survey
The longest in bed - Brazilians. Too Romantic.
The most promiscuous women in the world - New Zealand. Men, it's the place for you.
The most promiscuous men - Austria. Place for girls to go.
World's worst lovers - Germany. What a depressing news. Beautiful men with bad hearts.
World's best lovers - Spaniards. They are good looking too.
Shortest sex relationship - Thailand. It starts on the beach and ends their.
The horniest country in the world - Greece. Oh! Too sensuous
The facts have been revealed by The Penguin Atlas of Human Sexual Behaviour.