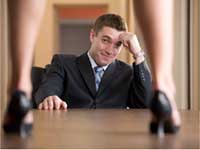 Neosexual, the new age ladies' preference of modern masculinity following S.N.A.Gs (Sensitive New Age Gyus), metrosexuals, retrosexuals.
A "Neosexual" falls into the description of flinging off the feminine aspect of the metrosexual and to take an almost about turn to the inherent masculine approach.
A deodorant company came up with the new age preference of the ladies through a research which said 81 per cent of females saw the attractive side of a man being sensitive without shedding his masculinity.
According to Bernard Salt, demographer and author of Man Drought, men had to turn all new for the new generations as women called the shots.
"[Generation] Y women in their 20s and early 30s feel generally empowered to make choices that perhaps previous generations may not have had," The Sydney Morning Herald quoted Salt, as saying.
"They want the manliness of a James Bond, the looks of Hugh Jackman, the humour of Jim Carrey and the youth of Zac Efron," he added.
AGENCIES