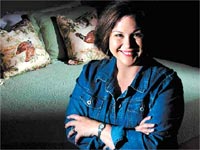 Just imagine gifting an everyday lovemaking for one year to your partner. Surprised? Yes, that's exactly what Charla Muller, 42, from North Carolina, USA, gifted to her husband on his 40th birthday.
The birthday gift has tremendously changed Mrs. And Mr. Brad Muller's lives. When Brad Muller first heard the offer, he had literally fallen over. However it was an enticing offer that he could not resist.
The couple found the lovemaking season pleasurable even when they didn't look at their best at times. The experience kept both of them happy and beaming, and they were getting along better as a couple. The gift also increased the intimacy levels, and they started talking more, hugging more, kissing more and connecting more.

Of course there were little hurdles on their way. There was the fear of everyday lovemaking becoming a routine chore. There was a fear from Brad that he couldn't deliver his best! They were also worried whether it was possible to keep things new and exciting. However knowing they could have sex every day, no matter what the circumstances, meant the pressure was taken off constantly performing.
Charla was ecstatic that she had been able to fulfill her commitment when she reached the last day, and she realised that the gift had brought something back to their marriage - intimacy. She also realised that lovemaking was not such an important part of a marriage, and that it holds equal value with communication, spending time together, and just having plain fun.
Charla has written a book about her experience titled 365 Nights: A Memoir Of Intimacy.