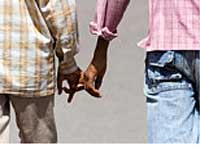 Homosexuals and transsexuals will never go to heaven, Javier Lozano Barragan, Cardinal from the Roman Catholic Church.
He said that the Catholic Church still regards homosexuality as an insult to God. People were not born gay but in the course of life choose to embrace homosexuality of their own free will.
He emphasised that this is against God's will and that the transsexuals and homosexuals will never enter the kingdom of heaven.
The Church believes that nobody is born homosexual, they become homosexual, for different reasons. Most of them fail to develop their own identity during adolescence and hence embrace homosexuality.

Cardinal Barragan recently retired as head of the Vatican's Council for Pastoral Assistance to Health Care Workers but still holds influential positions on several Church committees.
However, cardinal's comments are prompting a rebuke from the Vatican. Father Federico Lombardi, a Vatican spokesman, said the conservative website on which the cardinal made his comments should not be considered an authority on Catholic thinking on complex and delicate issues such as homosexuality.
He quoted from the official Catechism of the Roman Catholic Church, which says homosexual act is a disorder and acknowledges that many people have innate homosexual tendencies and should be treated with respect.
An Italian gay rights group, Arcigay, has criticised Cardinal Barragan's comments and and said "It is true, we won't ever get into your heaven, which is a murky and unjust place."