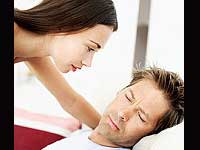 Couples usually experience lack of sex in their relationship after a few years of their marriage or after giving birth but most of the couples don"t know the reason behind this problem.
Denise Donnelly at Georgia State University says that sex life can be regained if the couples ask questions to themselves and to their partners on why are they not able to make love to each other like before.
Here are some of the reasons to why couples experience sexless life.
A couple may not have had chances to indulge in lots of love making.
Events like a child birth or an affair might lead to this.
When other things in life like job, responsibilities, career etc get on the top list of priorities.
Couples experience low sex drive due to mental or physiological reasons.
When a partner gets bored with usual sexual activities or experiences discomfort with his or her body.
If you experience any of these scenarios as a reason for a sexless life. Don"t worry, because there is a solution to every problem that we face. Here are some suggestions on how you can get back sex in your relationship. Sex expert, Dr Yvonne Fulbright says:
First and foremost step is to question yourself on why has this happened to your relationship. Include questions like: has your relationship hit the expiry date? Or are you not a good partner or is there a bigger problem which needs to be solved outside your bed room?
Talk to your partner about what you experience in your sex life. Make sure that you don"t point finger at each other by blaming him or her. By doing this you are letting your partner know what is that you feel and how this problem can be tackled.
Though society would make you feel abnormal or unhealthy for not having sex, don"t put yourself under this pressure, give yourself space and have the right amount of love making.
Don"t make sex routinely. Instead take breaks from your usual life and plan a date night or a love making session outside your bed room too.
Take professional advise or talk to experts in fixing the problem. They will be able to help you analyze your problem and suggest the aids. So don"t shy.
Story first published: Monday, August 30, 2010, 15:46 [IST]