Wondering what is BDSM? Well, we are sure that you must have heard of the novel 50 Shades Of Grey. That seems to be easiest way to explain BDSM. BDSM stands for Bondage, Discipline, Sadism and Masochism.
BDSM is a collective term for these erotic practices. Basically the BDSM practices involve dominance and submission through the acts of role playing and restraint. The acts of BDSM can be extremely erotic if you do it within limits.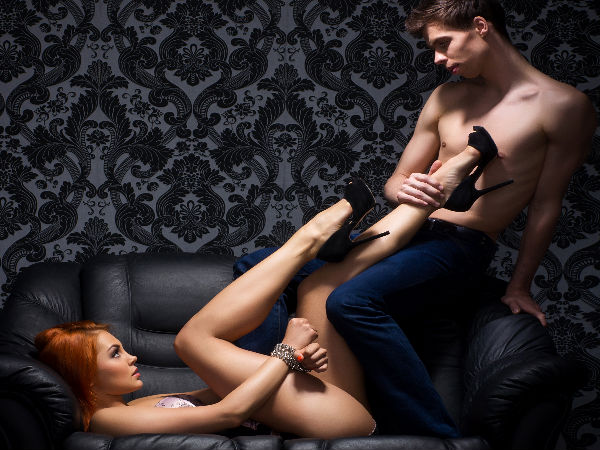 Introducing BDSM to your bedroom will spice-up your sex life all the more. If you are bored of the same old style of sex, then you can try out BDSM with due permission from your partner. Here are a few tips to master the art of BDSM. Take a look.
Talk It Out
You may have been thinking about BDSM but your partner may not be even aware of it. So, the first step is to talk to him about it and tell him what interests you in BDSM. See how he reacts. Do not push or force if your partner is not comfortable with the idea.
The Safe Word
Always be ready with the safe word. If you have been pushed to the limit where you can no longer bear the pain, this safe word gives an indication to your partner to stop.
Start Easy
Do not go for difficult sex toys or the like. Start with simple steps. The illusion of being dominated or the submissive to your lover is the whole idea. So, you don't have to beat each other up to get the illusion. For example your partner commands you to lie down then he ties you up with the bed and asks you to spread your legs wide. Then he blindfolds you and starts the foreplay. Your senses go wild about the unexpected moves that he is about to do on your body. That is the whole idea of performing a BDSM in your bedroom.
Easy Tools
After a few BDSM sessions without tools, start with some easy tools like the handcuffs or the D-rings that allow you to spread arms and legs and fasten them to fixed objects. These tools will heighten up the eroticism all the more.
Use The Lingo
Address your dominant lover as 'Master' or 'Sir' while you start your BDSM session. Also ask your partner to address you as his 'kitten' or 'slave'. This gets you even deeper into the experience.
These are the basic rules of BDSM. So, start your 'session' tonight and enjoy the wild ride.