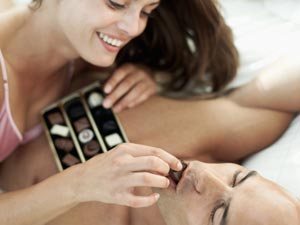 As it is summer, you are in no mood to make love. To enjoy a good date at home, you can include some delicacies which can cool you down from the summer heat whilst boost your sex drive. You can make the summer night steamy by spicing up your love lives with aphrodisiacs. Check out the most delicious aphrodisiacs which are great for the summer season.
Summer aphrodisiacs to spice up love life:
Watermelon: It is believed that watermelon has ingredients similar to Viagra. This is a natural aphrodisiac to boost up your sex drive and spice up the love life. Arginine is an amino acid found in watermelon. So, enjoy this summer fruit, the natural aphrodisiac to increase libido.
Tomatoes: Also known as love apples, tomatoes can be a great treat to boost up your sex drive. For men, tomatoes are not just healthy aphrodisiacs but also a sperm quality builder medicine. You can also have tomato salad with mozzarella cheese and strawberries.
Mint cocktail: To beat the summer heat, make mint cocktail to freshen your mood. Increase your libido with this summer aphrodisiac. Mint can be a great mouth freshener and a great food to boost up sex drive especially among women. Alcohol is another aphrodisiac to increase your libido.
Cucumber: Chill your mood with the summer vegetable. Add this aphrodisiac in the salad or just eat them raw after a hot summer day. This freshens your mood and also spices up your love life by increasing the sex drive.
Melted chocolates: After reading the name, you start imagining! Chocolates can be a great aphrodisiac. Use it sensually and get into the mood for making love in any season!
These are few summer aphrodisiacs which can be great to beat the heat and also revive the mood for making love.