Sexting (sex messages or texts through mobile) is fun. Couples are getting too engaged with this method of getting horny. You can make sexting a sensual way to excite your man by choosing the right lines. If you want to turn on your man when he is far away from you, send these sext messages to him.
I wanna be your pillow: When your partner stays far away from you, you have to keep it wild. To fill in for the lack of sex, you can make your man die out of lust by saying this line. Most of us have a habit of hugging a pillow and sleeping. Make him feel more horny by saying this. This line can be best said at night when you both are talking dirty. Who knows, he might use the pillow as his prop.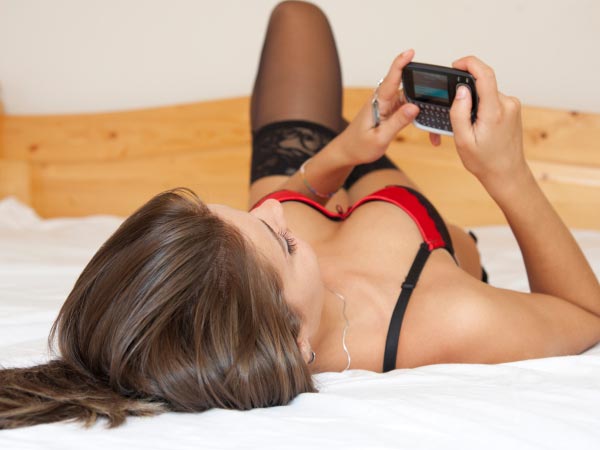 Your asset is missing you: Make him feel that he is missing out something when he is not with you. Even if he is at work or gym, send this sext message and see how you excite your man in seconds. Mention assets to bring a sensual affect. Use 'yours' to make him feel that you have two bodies and one soul.
I'm naked: Tempt him by sending this sexy text message. Tell him that you are naked. Talk more dirty if he replies instantly. Make him feel that he is missing out something and so, he should be with you as soon as possible.
I have something hidden in my curvacious cleavage. Come soon to find out: Make him excited by sending this sexy message. Whenever he reads this text on the mobile screen, he will definitely imagine something sexual. Make this conversation fun filled. Add humour and wit to enjoy every text. Do not explain much to him about the hidden treasure. Keep it a surprise to make him think about it and get horny.
I have a new toy. Lets try it: This sext message will turn him on as it shows that you want to try something new. This is a bold message that is not only sexy but also shows your willingness to have sex.
I am wearing a tight body hugging deep neck dress: If your man has seen this particular outfit, make him feel jealous by saying that you have put on his favourite dress. Even if he has not seen the outfit, he should feel that he is missing out your sexy look. When you mention "tight body hugging deep neck", he would fantasize your figure and cleavage that would pop out once you wear a tight and deep neck dress. Try sending this sexy text and see how he responds. Make sure you explain the outfit pattern and the shape it is adding to your body in a sensual way.
These are few sexual texts that can make your man horny within a minute. Always try to use words that make him fantasize and run towards you. This curiosity helps you two have an erotic sex life.