A man might be attracted towards sex but after a span of time, he gets bored. You could have tried several things to spice up your sex life with your partner. Going naked, watching porn, trying new sex position or lingerie are common ways to bring that 'Oh Yes' spark in your sex life. Thus, here are few smart tricks that can make him say, Oh Yes Baby! Check out..
'Oh Yes' sex tips to spice up love life: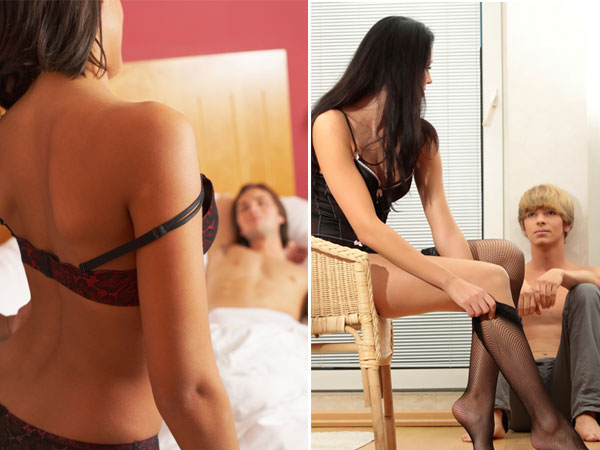 Your pose: To make him go crazy and jump on you, you have to sit or lie down in a pose that makes him go gaga over you! Apart from wearing a revealing lingerie, just know the best sexy pose to highlight your figure and assets. You can either lie down to show off your cleavage or sit in a way to expose your legs. Choose a lingerie that has lace or net to give a glimpse or your assets.
Use vibrator: I know it sounds crazy but if you want to wow him and make his say 'Oh Yes Baby!' then try it. If you do not like the concept of using vibrators, just masturbate in front of him. A man would get aroused within seconds. Men just love to see their partners enjoying pleasure, moaning and making sexy gestures while having orgasm.
Strip game: This can be tried when your man is really busy working or watching his favourite sport. Just sit in front of him and then sexually say, you desire to play answer or undress game with him. Basically you will ask few questions to which he needs to answer. If he gives a wrong answer in the rapid fire session, you will start reducing one cloth from your body. A sex tip to master it, wear jackets, stocking and g strings to make it a spicy game.
Explore your breasts: Men have an unexplainable fascination towards woman's breasts. Women do not understand why and how but men always love to caress the breasts of his woman. If you want to get the 'Oh Yes' spark, try this sex tip tonight. Go in front of him, undress your top or dress and then caress your bosom yourself. A man will get delighted to see you trying some self act in your own way.
Try these sex tips to make him say 'Oh Yes Baby!'