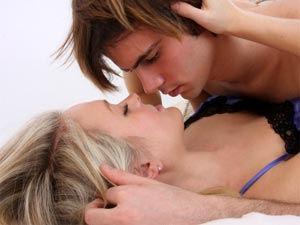 The lovemaking session becomes more romantic and erotic when she shows that she wants more. Men can get excited easily but women take a lot of time to increase their libido drive. As women take time to get excited, you have to be really smart with your tactics to make her want more in bed. How? Read on...
Stimulation: By stimulating her g spot, you not only excite her mood for making love but also make her want more in bed. You can either stimulate her with your finger, tongue or during the intercourse. This increases her chances to reach orgasm and make both of you enjoy the lovemaking session. You can even stimulate her slowly after a session.
Excite her and then...: Excite her and then take a break for few seconds. You can be playful in this context. Being playful enhance the mood for making love. For eg, you can go little far from her and make her come to you and kiss you. Remember, don't leave her during the break otherwise both can lose the mood.
Use tongue: Tickling a woman's body is extremely exciting for her. To make her want more in bed, play with her body by tickling her sensual spots such as neck, breasts, lower abdomen, back and upper thighs. This excites her and makes up the perfect mood for multiple orgasms.
Doggy style: Many women love this lovemaking position as the penetration is deep and excites her, you should try the doggy style lovemaking position. If she hasn't reached orgasm, she will want more in bed Or even if she has reached, she would like to have again!
Try these ways to make her want more in bed and excite her.