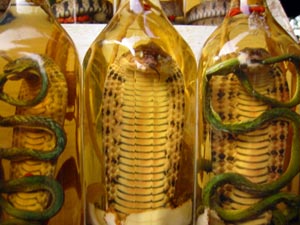 Aphrodisiacs are for love, more love, more and more love. Many substances have been used as aphrodisiacs in past, to improve lovemaking. They have been tagged as substance to boost love, because of the shape of the object in case of a fruit or the power of an animal, if it is an animal part.
Though the types are many, some are really bizzare. Let's have a look a top 5 of these unusual aphrodisiacs for lovemaking.
Tea: Do not go by the name alone. This tea has the eyelid of sheep immersed it in hot tea. But, this tea is not for drinking, it is used for applying on the male organ for lovemaking. This ancient Chinese drink is one of the top 5 unusual aphrodisiacs.
Black Ants: Black ants of China are also believed to be good aphrodisiacs. Since ants are packed with various kinds of nutrients and energy-producing vitamins, these are quite a biting unusual aphrodisiac.
Coco de Mer Coconut: Considered to be the world's most erotic fruit, this fruit that is shaped like the female buttock, is grown only on the Seychelles. You want more news on this? Kate Middleton and Prince William received this as a gift on the last day of their honeymoon!
Animal Excrement: Sounds disgusting? Well, people can go to any extent for more love! Pigeon, toads snail excrement was (thankfully) used before the 1700's.
Mamushi Pit Viper: Sounds dangerous? But the Japanese men consumed this to improve their libido.
Though the above unusual aphrodisiacs sound very disgusting, they have been used to increase the lovemaking in many kings and queens who once ruled. If there are any daring and desparate love seekers, they can try having any of the above mentioned aphrodisiacs to improve or, should I say explode their lovemaking!